Archive:
Symposium Landek 2010
5th anniversary bienale of international sculptor symposium LANDEK 010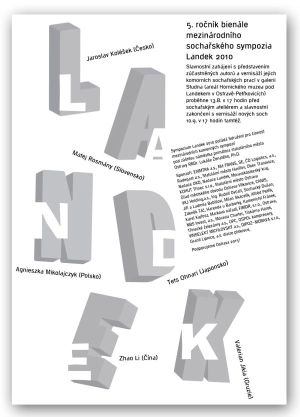 The Association provides the sculptors with the following:
– stone material – blocks from 0,1 – 12 tons (, Božany sandstone, Silesian granite and marble, also a choice of other hard materials if needed
– an exhibition of the participants of the symposium in the grounds of the Mining Museum
– compressed air
– electric power
– water supply
– heavy pneumatic hammer PERMON (for roughing)
– big drilling hammer (for cutting stone and drilling for its mortising, drill hole length 180cm)
– light pneumatic hammer PERMON (for bush-hammering and other working of stone)
– slitting disks
– sun and rain protection with popular tents PARTY (3 x 3m)
– arranging of welding if needed (conventional and shielded)
– forging works
– a crane (up to 28t) for stone handling
– materials needed for joining and drilling
– accommodation in the place of symposium; there is an equipped kitchenette (fridge, el. cooker, el. kettle), bed sheets, TV, shower boxes, WC
– one warm meal a day – lunch in near restaurant,breakfast and dinner.
– drinking regime (non-alcoholic beverages)
– grant in the amount of : CZK 25.000 (EUR 1000)
50 % on signing up the participation contract before beginning of work
50 % after finishing of work after final ceremony
Fly ticket from far destination,train or bus ticket…
The Association does not provide:
– help workforce
– accommodation for family members and visitors
– health and accident insurance
– sports equipment
The participants arrange themselves :
– health and accident insurance covering the activities at the symposium
– work clothes and protective equipment
– own end instruments (angle grinders, chisels, electrical extension, end pneumatic tools)
– they are responsible for own and borrowed equipment
– occasion to present own material on DVD, CD
Possibilities in the area
– sports grounds (tennis, beach volleyball, rope center)
– cycling trips
– swimming pool Poruba (10km)
– gravel pit Hlučín (10km)
– gravel pit Antošovice (5km)
– exposition of the Mining Museum
– restaurant Rajská zahrada (2km)
– guest house Lhotka with a restaurant (4km)
possibility of accommodation e.g. for family members, visitors
information and on-line booking www.penzionlhotka.com
– restaurant U Sněhotů (1,8km)
– tennis club Kobr bar (250m)
– miner's restaurant U Barborky (300m)
– night club Barxon at own risk (1,8km)
– market Petřkovice (2km)
– center of the town of Ostrava (4km)
Sdružení navázalo v minulých letech trvalou spolupráci s významnými uměleckými institucemi (Centrum polského sochařství Orońsko, VŠVU Bratislava – Katedra socha / objekt / inštalácia), s Městskou galerií a Sdružením uměleckých aktivit Galerie OFF v Piotrkowě Trybunálskim, Sculpture by the Sea v Sydney a Městským Kunsthausem v maďarském Veszprému, s galerií Parter v polské Lodži.
Sympozium LANDEK 010 bude další příležitostí k navázaní spolupráce a rozvíjení nových kontaktů. Cílem Sdružení je organizačně, morálně a finančně podpořit pořádání mezinárodních sochařských kamenných sympozií, která se konají jako bienále v areálu Hornického muzea v Ostravě – Petřkovicích.
Také vydává katalogy, filmové materiály, které dokumentují činnost sdružení. OS pořádá výstavy , zajišťuje přednáškovou činnost doma i v zahraničí. Spolupracuje se svými partnery na přípravě nových projektů. Zajišťuje průběžně podporu v médiích (TV, rozhlas, tisk). Landecké sochařské sympozium si získalo v minulých letech slušný ohlas odborné i laické veřejnosti doma i ve světě.
Chceme pokračovat ve zviditelnění našeho kraje a rozšiřovat možnosti spolupráce s našimi stálými partnery a novými kulturními institucemi u nás i v zahraničí. Za 8.let naší činnosti vznikl zcela mimořádný soubor sochařských děl realizovaných převážně v kameni. Založili jsme 3. sochařské parky.
Občanské sdružení pro činnost mezinárodních kamenných sympozií pracuje od roku 2001 kontinuálně na přípravě Mezinárodních sochařských sympoziích LNDEK 02, 04, 06, 08, 010. V letech 2006-2008 zajišťovala koordinaci a kofinacovala mezinárodní sochařský projekt WE- YOU- TOGETHER
Úspěšná činnost sdružení se stala předmětem obsahu několika diplomových prací studentů VŠB – Ostrava. OS trvale spolupracuje s městy, obcemi, vysokými školami, uměleckými institucemi, nadacemi. Pravidelně získáváme záštity starostů, hejtmanů a ministrů kultury.
About Symposium
6th Těrlicko – Landek 2019 international sculpture symposium which takes part from 10th August to 7th September in Těrlicko close to the football stadium.
The sculpture park will be completed with new sculptures which will also trim the path leading from the local basic school.
Venue of the Symposium
Těrlicko – parking behind the football field
Scroll to top