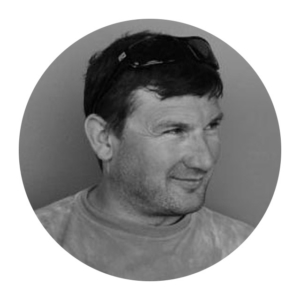 Damjan Komel
BORN
1971 – Šempeter, Slovinsko
Born 1971 in Šempeter near Nova Gorica, Slovenia. He lives and work in Bilje and Vrtojba nearby Nova Gorica, Slovenija.
STUDIES
2001-2005 Famul Stuart School of Applied Arts Ljubljana, Slovenia
ARTWORK
In his artistic research he seeks to tell his own story, his experiences, personal responses and feelings, as well as those of people and situations  he encounters in his daily life. He likes to use traditional hand tools,  such as the chisel on stone that leaves a unique trail, a personal mark which transmits a human strength to the sculpture and infinitely reflects the sculptor's thoughts in the stone. He loves working with white marble – Lasa, Carrara, or Sivec, not polishing them to perfection, sanding them , but leaving the surfaces soft, flowing or wavy, so that they all attract and encourage the desire to touch and caress the shape of the sculpture. As well as stone and marble he works in the classic materials of bronze, wood and ceramics. Currently he is a member of the artistic association Prologo from Gorizia, Italy. He lives and works nearby in Nova Gorica, Slovenia.
"The aim of art is not to objectify the haughty aims of high art but to register and imaginarily point out desires arising from our everyday life." Prof.Dr. Aleš Erjavec
About Symposium
6th Těrlicko – Landek 2019 international sculpture symposium which takes part from 10th August to 7th September in Těrlicko close to the football stadium.
The sculpture park will be completed with new sculptures which will also trim the path leading from the local basic school.
Venue of the Symposium
Těrlicko – parking behind the football field
Paolo Vivian


Zhao Li
Scroll to top